List of Top 10 Best Broker for Intraday Trading in India 2022
The best broker for intraday trading: In India, intraday trading is one of the most popular trading segments. It's difficult to choose the best broker for intraday trading. To discover India's top intraday brokerage company, compare intraday brokerage and exposure margin for top stock brokers in India.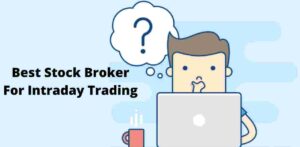 Although there are 300 small and large stock brokers in India, only a few are best for intraday trading. You must evaluate several variables in order to locate the finest day trading broker who offers you value for money. This article explains what is intraday trading, what characteristics you should consider with a suitable day trading broker, and how to select one. And we have also covered the best stock broker for intraday trading:
What is the best broker for intraday trading?
Buying and selling stocks during the same trading day is known as intraday trading (or day trading). Trading positions (buy or sell) are closed before the market closes for the day in day trading. The broker squares off the open position if the trader fails to close the position (reverse sell or purchase the same stock in the same quantity) by the agreed intraday square-off time. All sectors, including Equity, Equity F&O, Currency F&O, and Commodities F&O, engage in intraday trading. The trader who does day trading is called Day Trader.
All stockbrokers provide day trading or intraday trading, however, to be profitable, A broker must have the following characteristics:
The least commission (Flat-rate brokerage with no minimum brokerage is preferred).
Reports on Research.
Increased intraday margin or exposure.
Outstanding Customer Service.
Free online trading platform (particularly for desktop trading terminals).
Top 10 Best broker for intraday trading 2022:
Here, is the list of best stock brokers for intraday trading with customer ratings:
| Sl.no. | Broker Name | Rating |
| --- | --- | --- |
| 1. | Upstox Intraday Trading | 9.31 |
| 2. | Angel Broking Intraday Trading | 9.24 |
| 3. | Zerodha Intraday Trading | 9.15 |
| 4. | IIFL Intraday Trading | 9.09 |
| 5. | Motilal Oswal Intraday Trading | 9.02 |
| 6. | ICICI Direct Intraday Trading | 8.99 |
| 7. | Kotak Securities Intraday Trading | 8.96 |
| 8. | Sharekhan Intraday Trading | 8.84 |
| 9. | Edelweiss Intraday Trading | 8.83 |
| 10. | HDFC Securities Intraday Trading | 8.72 |
What is Intraday Trading?
"Within the day" is what the term "intraday" refers to. The phrase is a shorthand in the financial industry for securities that trade on the exchanges during ordinary business hours. Stocks and exchange-traded funds are examples of these assets (ETFs). Intraday also refers to the asset's highs and lows throughout the course of the day. Intraday price changes are especially important for short-term or day traders who want to execute numerous trades in a single trading session. When the market closes, these frantic traders will close all of their positions.
More about intraday trading:
The term "intraday" is frequently used to refer to a security's new highs and lows. "A new intraday high," for example, indicates that the security hit a new high in relation to all other prices during a trading session. An intraday high might sometimes be equivalent to the closing price.
Traders use real-time charts to track intraday price movements in the hopes of profiting from short-term price swings. When trading inside the market day, short-term traders generally utilize one-, five-, fifteen-, thirty-, and sixty-minute intraday charts. For high-speed trading, intraday scalping often employs one- and five-minute charts. For trades with hold durations of many hours, other intraday trading methods may employ 30- and 60-minute charts. Scalping is a trading technique that involves making a large number of transactions every day in the hopes of profiting from little price changes in stock. The intraday trader may hold their positions for a longer length of time, but he or she is still taking significant risks.
On an intraday basis, volume-weighted average price orders are frequently used to improve trade execution efficiency by exposing an order to a range of prices during the trading day. The VWAP is the average price at which specific security trades over the course of a trading day.
Point to be Noted:
Intraday refers to securities and their price fluctuations that trade on the markets during regular business hours.
Day traders monitor intraday price changes closely, timing deals in order to profit from short-term price swings.
Traders employ intraday methods such as scalping, range trading, and news-based trading.
Characteristics of the Best Broker for Day Trading:
When it comes to selecting the best stock brokers for day trading, the market provides a variety of solid options. Whether you're looking for a top online stock broker for day trading or a full-service broker, you'll be able to discover one that's right for you. However, the ideal stock broker for day trading must possess the following five characteristics:
The majority of day traders seek trading platforms that are functionality, simple to use, plus quick. Day trading stocks is a fast-paced game, and you can't afford any downtime or software difficulties, especially at the conclusion of the trading day when you need to close out your positions. That's why you need a day broker that can provide you with the greatest day trading platform.
The level of margin trading or exposure leverage is given by a stockbroker is one of the influencing elements for traders when picking the best stock broker for intraday trading. Please keep in mind that day trading is a low-margin activity. In a single day, the price of a stock fluctuates relatively little. So, if you want to make a lot of money from it, you'll need to play a lot of it. That's where the day trading exposure margin facility comes in. When you trade on margin, you may place orders on certain stocks by paying only the margin amount. It differs from one broker to the next. For stock intraday trading, 5paisa offers a margin exposure of up to 20 times, whereas Kotak Securities offers a margin exposure of up to 40 times. So, if you have Rs 10,000 in your account, you may trade with 5paisa up to Rs 2 lakhs and with Kotak up to Rs 4 lakhs. So, while looking for a top stock broker for day trading, look for intraday exposure limitations.
Low Brokerages Intraday trading:
The majority of day traders seek day trading brokers with minimal commissions. Because day trading is a low-margin game, this is the case. Consider how, if the transaction profit is only a few hundred rupees, the increased brokerage might lower it even further. Day traders benefit from cheap brokerage costs since most brokers, both discount Stockbrokers and full-service stockbrokers, are aware of this.
Another important consideration while looking for the best day trading broker is the order types available. Day traders require order types such as Market Orders, Buy/Sell Limit Orders, Stop Loss Orders, and Bracket Orders. In an intraday transaction, these order types are extremely beneficial for placing purchase orders and locking in profits or stopping losses. For example, suppose you purchased 100 any company shares at Rs 1000 each. You might place a STOP LOSS order at Rs 980 to limit your losses. As a result, the order is instantly executed when the price exceeds Rs 980.
Research Capabilities & Trading tools:
Dedicated research staff is employed by stockbrokers, particularly full-service brokers. The team does technical and fundamental stock research and advises consumers on trading possibilities. They also publish studies on the economy, market trends, and initial public offerings (IPOs) on a regular basis, providing consumers with valuable information. So, while choosing a stock brokerage company, seek research skills.
Day trading also entails real-time analysis to discover short-term profitable chances. To keep an eye on the market on a frequent basis, you'll need clever trading tools like market scanners, real-time data feeds, complex charting tools, and so on. In order to be location-independent during market hours, your day trading broker should also supply you with a mobile trading app.
Top15 Best Brokerage Companies in India for Intraday Trading with Brokerage & Margin:
| Sl.no. | Broker Name | Brokerage (Eq Intraday) | Exposure (Eq Intraday) | Exposure (Eq Futures) | Exposure (Eq Options) |
| --- | --- | --- | --- | --- | --- |
| 1. | Zerodha | Rs 20 per executed order or .03% whichever is lower | Up to 6.66x (based on the stock) | Intraday – 75%(1.33x), Carry forward – 100%(1x) of Total margin (Span+ Exposure) | Intraday – 75%(1.33x), Carry forward – 100%(1x) of Total margin (Span+ Exposure) |
| 2. | Upstox | Rs 20 per executed order or 0.05% whichever is lower | 5x | 2x | 2x |
| 3. | Angel Broking | Flat Rs 20 per executed order | Up to 10x | Up to 4x | 3x for shorting |
| 4. | Groww | Rs 20 per executed order or 0.05% whichever is lower | Up to 8x (based on the stock) | NA | NA |
| 5. | 5paisa | Rs 20 per executed order | Up to 20x | Intra-day: 3.5x | Carry forward: 1x (no margin) | Intra-day: 1x | Carry forward: 1x |
| 6. | HDFC Securities | 0.05% | Up to 20x | Nil | Nil |
| 7. | Sharekhan | 0.10% | Up to 10x | 2x for Intraday | Nil |
| 8. | Kotak Securities | 0.049% (both side) | 50 times | 12 to 15 times | Selling: 200 times | Buying: 10 times |
| 9. | AxisDirect | 0.05% | Up to 10x | 100% (1x) | 100% (1x) |
| 10. | Motilal Oswal | 0.05% (both side) | 20x for Margin+ (Over 140 Stocks), 4x for other stocks | Up to 3x for Intraday | No exposure |
| 11. | SBI Securities | 0.05% | Up to 5x | Nil | Nil |
| 12. | IIFL Securities | Rs 20 per order | Up to 20x | Up to 3x | 3x for shorting |
| 13. | Edelweiss | Rs 10 per executed order | Up to 40x | 40x | Nil |
| 14. | SMC Global | 0.03% | Up to 10x Intraday | Up to 2x | NA |
| 15. | Geojit | 0.03% | Up to 10x | No additional leverage | No additional leverage |