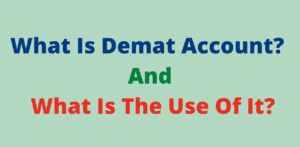 Trading and investing in the Indian stock market has been made easier thanks to the provision of a Demat account. To trade in the Indian financial market, the first and most important step is to open a Demat account. Many investors, however, are unaware of the value of having a Demat account. This is due to their lack of understanding of how a Demat account works. This article will give information on Demat account usage and other related topics to assist you in greater understanding your Demat account.
What is a Demat account and when do you need it?
A Dematerialized (or Demat) account is an electronic account that holds your securities instead of physical certificates. As an investor, you must create a Demat account with a Depository Participant to purchase and sell securities on the Indian stock market (DP).
A Demat Account, also known as a Dematerialised Account, allows you to keep shares and assets in an electronic format. Shares are purchased and stored in a Demat Account while online trading, making it easier for consumers to trade. All of an individual's interests in shares, government securities, exchange-traded funds, bonds, and mutual funds are held in a Demat Account.
What is dematerialization?
The process of turning physical share certificates into electronic form, which is much easier to maintain and available from anywhere in the globe, is known as dematerialization. An investor must first create a Demat account with a Depository Participant (DP) to trade online. Dematerialization aims to make it easier for investors to manage and monitor their holdings by eliminating the need for them to retain physical share certificates.
What is the Use of a Demat Account?
To operate in the Indian capital market, the Securities and Exchange Board of India (SEBI) has made it obligatory for investors to create a Demat account. It is because a Demat account is cost-effective, secure, and handy. The dangers of theft, loss, and mutilation of share certificates are eliminated when shares and securities are held in electronic form. Furthermore, Demat account transactions are paperless, making them even more easy and cost-effective.
HOW TO USE A DEMAT ACCOUNT?
Using a Demat account is quick and straightforward. All you need for a Demat account is an active internet connection and a login id. A stockbroker or a Depository Participant can help you open a Demat account (DP).
The first step towards opening a Demat account is selecting a DP or stockbroker. A DP acts as an intermediary between you and the depository. You must fill the account opening form and submit the necessary documents like PAN card, identity proof, address proof, passport size photograph, etc. to the DP. An agreement copy would be handed over to you by the DP consisting of the charges, rules, and regulations. Now, an in-person verification shall be carried out to verify the details submitted by you. You will be provided with a client id and Demat account number on successful verification of the application. You can log in to your Demat account to buy or sell shares and securities
You must additionally create a trading account in addition to the Demat account. You can purchase and sell shares using this trading account. When you buy or sell a stock with your trading account, the stock is credited or debited into your Demat account in T+2 days. If you pay the purchase price before the deadline, the broker will transfer the shares to your Demat account.
Easy share storage and transfer: It also allows you to store an unlimited number of shares, allowing you to trade in large quantities and keep track of all the shares you own in a Demat Account. It also makes it easier to transfer shares quickly while dealing online.
Paper-based share certificates are no longer a risk: Before the introduction of Demat Accounts, shares were only available as physical paper certificates. If you owned stock in a firm, you had to maintain a dozen paper certificates in your safe. Tampering, theft, loss, and forgery were all possibilities. Furthermore, the transfer of shares included extensive documentation that was prone to mistakes and delays. All of these shares may now be held electronically in a safe and secure digital repository with a Demat Account.
Online Accessibility: You may use your smartphone or laptop to manage your Demat Account at any time and from anywhere.
Bonuses and trading volume are easily known: If the business whose shares you own takes an initiative to make a change to its stock, including a bonus issue or a share capital, your Demat Account will be updated regularly.
Contains a variety of investments: Aside from shares, a Demat Account can store a variety of other investments such as bonds, mutual funds, ETFs, government securities, and so on.
To create a Demat Account, you must first contact a stockbroker, such as Zerodha, Upstox, Angel Broking, and others. You must fill out an online account opening form, which is completely paperless and takes less than 10-15 minutes to complete. The procedures to open a Demat and Trading Account are outlined below.
Fill out the account registration form.
Enter your personal information, such as your name, email address, phone number, and address, as well as your PAN number.
Fill up your bank account information.
Upload the required KYC papers for verification of address and identity.
Make an in-person verification by filming a brief video of yourself.
Sign the form electronically using your Aadhar-linked cellphone number.