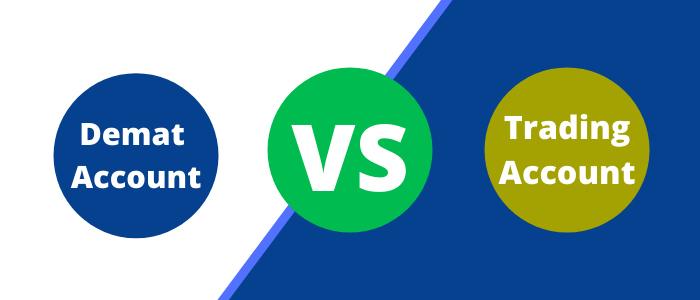 The difference between Demat and Trading Account is listed below.
Nature of Demat account Vs trading account:
The investor's bank account and Demat account are linked through a trading account. By removing the shares from the Demat account, investors can sell them in the market. It functions like a checking account. A Demat account, on the other hand, keeps all of the securities in one location. It functions like a savings account.
The functionality of trading account Vs Demat Account:
Buying and selling securities is done through a trading account. After that, the securities will be deducted from the Demat account. On the other hand, a Demat account is an electronic account that allows investors to keep track of their financial assets over the Internet.
Role of Demat Vs trading account:
It's possible that your Demat and trading accounts aren't the same. Both, however, are required in order to trade on the stock market. When a shareholder purchases stock, they do it through a trading account. The funds are taken from the bank account, and the shares are transferred to the Demat account. Similarly, when an investor sells his holdings, the money is deducted from his Demat account and credited to his bank account.
Open Top and Best Demat Account in India
The table below summarises the important difference between Demat and trading accounts.
| Parameter | Demat account | Trading account |
| --- | --- | --- |
| Broad definition | An account for storing assets that have been dematerialized. | It's possible to think of it as a link between your bank and your Demat account. |
| Transaction | The account can only be used to store assets and cannot be used for transactions. | Demat accounts are used to allow investors to conduct trading transactions. |
| Annual charges | to be paid for by investors | Generally, it is free, however, it is dependent on the company. |
Understanding the Demat Account Vs Trading Account:
The main difference between Demat and the trading account is that a trading account is used to purchase and sell assets on the stock exchanges. Here's a breakdown of their definitions and differences.
Although Demat and trading accounts are similar, they serve different functions. The most significant distinction is that a trading account is used to purchase and sell assets on stock exchanges. A Demat account, on the other hand, keeps all of your investments in electronic form.
More about Trading Account Vs Demat Account these two types of Accounts:
Trading Account:
To purchase and sell shares, you must first create a trading account with the Securities and Exchange Board of India (SEBI). A registered stockbroker or business can open an account for you. Every trading account is given a unique ID that permits you to conduct stock market operations.
Demat Account:
Shares were stored as tangible certificates prior to dematerialization. To hold your securities electronically, you'll need a Demat account. It's comparable to a bank savings account in that you may deposit and take money whenever you want. A Demat account, on the other hand, lets you keep your assets and is either credited (buy orders) or debited (sell orders). For More Details Please Visit.
How to open a Trading Account?
The following procedure simplifies the process of opening a Trading Account:
#Step1: Begin by deciding on a broker or a company.
#Step2: Make a comparison analysis of the brokerage prices and services offered.
#Step3: To open an account, contact the broker you've chosen from the list.
#Step4: Fill out an account opening form, which will very certainly need you to supply KYC information. This must be sent together with your ID and address proof.
#Step5: Go through the application verification procedure.
#Step6: Obtain information about your trading account.
#Step7: Start Trading.
To open a Demat Account, simply follow these simple steps:
#Step1: Contact a depository agent or a depository participant to fill out the form necessary to start a Demat account. The list of depository participants (DP) is available on the websites of depositories such as Central Depository Services (India) Ltd and National Securities Depository Ltd.
#Step2: Fill out the account opening form with copies and papers of your ID and proof of address.
#Step3: Sign an agreement with the DP outlining your rights and responsibilities as an investor and DP. Remember that you have the right to a copy of the agreement as well as a schedule of associated costs for your records.
#Step4: The DP will open your account and give you a Demat account number, also known as the Beneficial Owner Identification Number.
While it is now easier to create a Demat and trading account, as an investor you must still approach the stock markets with a solid grasp of the markets and the items traded therein. Investing in equities involves market risk and should be supported by professional advice.
What is a Demat and Trading Account?
Demat Account is used to digitally store securities (bonds, shares, mutual funds, etc.), whilst Trading Account is used to make orders in the Share Market.
Is the Demat account different from the trading account?
Yes. A Demat account is not the same as a trading account. A Demat account is used to store assets such as stocks, bonds, mutual funds, Exchange Traded Funds (ETFs), and other investments. It contains securities that have been converted from physical to electronic form or that have recently been purchased from an exchange. Because the shares in the Demat account are in electronic form and are subject to strict verification measures, there is no chance of theft, forgery, or tampering with the shares.
A trading account, on the other hand, is used to purchase and sell shares on the stock exchange. To trade, it must be linked to a bank and a Demat account.
Who can apply for a Demat and Trading Account?
Anyone, regardless of age or residency, can open a Demat account and Trading account.
Age is not a criterion, contrary to common perception. When a minor investor reaches the age of 18, the depository participant may request a Know Your Client (KYC) form in order to open a new account.
To open a Demat and Trading account, you must provide your PAN card as well as a KYC form.
Can I have a Trading account without a Demat account?
A Trading Account can exist in the absence of a Demat Account. You will be able to trade in Futures and Options with only a trading account, which does not need you to take delivery of shares.
Can I have a Demat account without a Trading account?
You can open a Demat Account without first opening a Trading Account. When an investor just wants to retain the shares for the long term without the aim of selling them in the near future, they can create a Demat Account and store the shares. In addition, while a Demat Account is required to take delivery of shares on allocation when applying for an IPO, a trading account is not required.