Best Trading Platforms In India or Trading Terminals- Overview:
If I talk straight, Each Stockbroker Provides a Unique Trading Platform – There are many online trading platforms in India, but the best trading platforms in India are the ones that perform the best in terms of overall customer experience.
Best Trading Platforms In India or Trading Terminals – Qualities:
Qualities and features of the Best Trading Platform like an Easy User-Friendly Interface, Platform Responsive, Platform Reliability, Analytical Capabilities, Automated Trading Capability, Analysis of Your Past Trades, Trading Recommendations, Market Analysis, News Current market update, live market updates, and review and rating. The broker who has all these qualities will come into the list of Top 10 Best Trading Platforms offered by Indian stock brokers. let's start…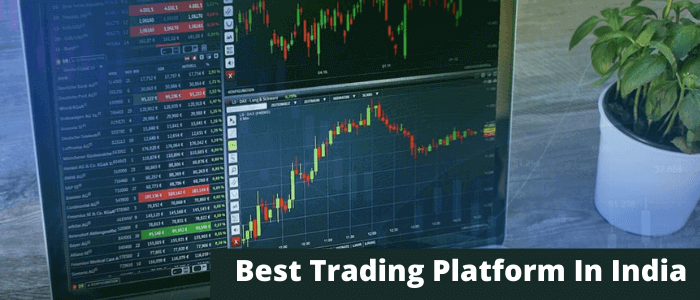 What is a trading platform?
A trading platform is a software program that allows you to do things like open, close, and control existing markets through a middleman, such as an online broker. Online trading platforms are also provided by brokers for free or at a reduced fee in return for maintaining a sponsored account and/or performing a certain number of deals per month. The best trading platform in India offers a balance of powerful features and reasonable costs.
A trading platform is a computer program that is used by brokerage companies to execute trading and analyze market positions.
Beginner investors can use simple order input screens, while professional traders can use complicated and powerful interfaces with streaming live quotes and graphs.
When choosing a trading platform, traders and investors should evaluate a variety of factors and weigh trade-offs.
Types of Online Trading Platforms in India:
In India, The stock market may be traded online using three interfaces. Platforms for such three sorts of interfaces are developed by every major stockbroker.
There are Mainly Three types of online trading platforms in India that are used by traders and investors.
Web-based trading platform.
Desktop-based trading platform.
Mobile Application based trading platform.
#1. Web-based Trading Platform:
You do not need to install the software. A web address provided by the stockbroker is used to access the Signup page. You may use any web browser, such as Chrome or Firefox, to access it and trade at a cyber café. The only drawback is that it is slower than a desktop-based platform.
#2. Desktop-based Trading Platform:
In comparison to the other two, it is the smoothest trading platform. Before you can use the program, you must first load it on your computer. The software is normally available for download on the broker's website. This platform is perfect for people who wish to do rapid buy/sell transactions. It will contain shortcut keys (such as F1 for buy, F2 for sell, and so on) that traders may use to quickly start a deal.
#3. Mobile Application based trading platform:
Today, internet trade would be impossible to imagine without the use of a smartphone. Almost all reputable stock brokers in India provide an Android app. Only a few Stockbroker providers support the iPhone application. Install the app from the Google Play Store or IOS store, log in with your details, and start trading. For more Details Please visit the Best Mobile Trading App in India.
List of Top 10 Best Trading Platforms in India [2023]
Details Analysis of Best Trading Platforms in India:
#1 Zerodha KITE 3.0 Trading Platform: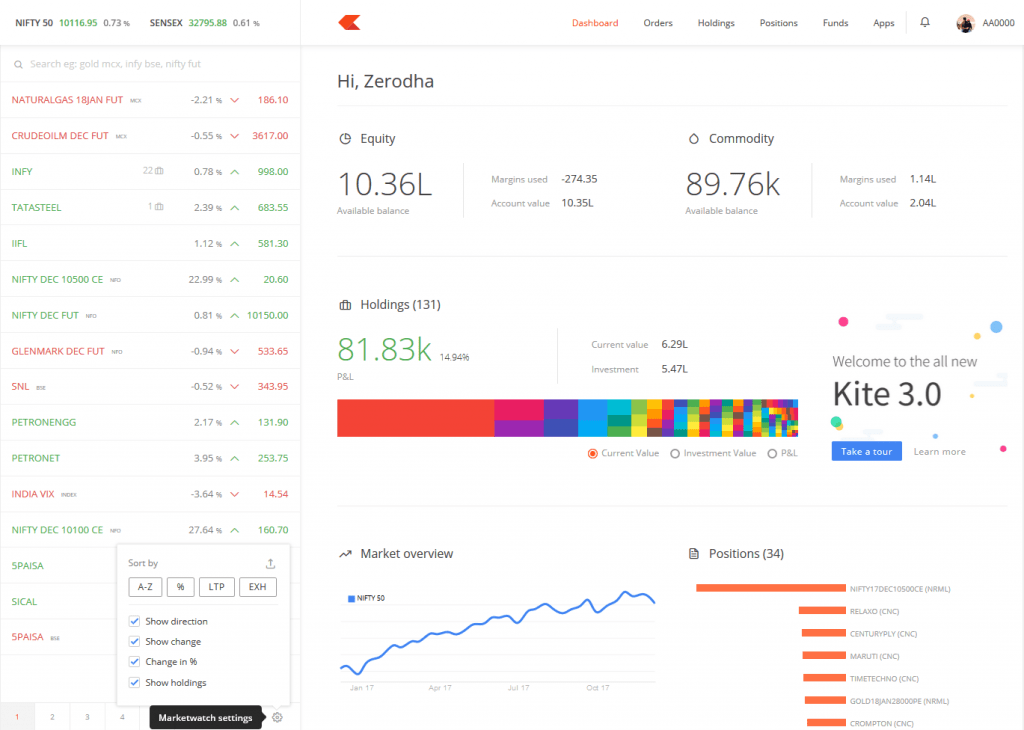 Zerodha, India's Top discount broker, has launched KITE, an online trading platform for web, and Mobile trading platforms. Previously, they offered Omnesys Technology's NEST software as a reconstructed image.
KITE was built in-house by the Zerodha group from the ground up, so any faults would be immediately resolved.
Kite provides comprehensive Marketwatch, detailed charts with over 100 Plus indicators, and six different chart formats. You get access to significant history price data for equities and F&O contracts to improve trading.
Zerodha Kite is an online trading platform that uses less than 0.5 kbps of bandwidth. That there were no particular system specifications, however, a fast internet connection is required.
Kite allows users to browse and trade 90,000+ equities and futures and options contracts across several exchanges.
Covering orders may be placed in milliseconds just on site. You may also see 20 strategic benefits (trade quotes) to determine liquidity in the market and trade appropriately.
Kite comes with a user-friendly, streamlined interface that allows you to analyze, trade, and maintain your account in your unique style.
Advantages:
It's light, intuitive, and gives you the best possible user experience.
Due to its modest resource requirements, it may be used without difficulty by clients from remote locations with sluggish internet speeds.
For effective trading, you'll need a lot of indicators, charts, and other tools.
Within the interface, you may transfer money between several banks.
Disadvantages:
It is not possible to trade directly from the charts.
#2 Angel one PRO Trading Platform:
Angel Speed Pro is another fantastic trading software from Angel Broking, one of India's most well-known stock brokers. Because it is a desktop program, it must be loaded by downloading the executable file.
Angel Broking or Angel One used to charge brokerage on a percentage basis before 2019. However, they are currently adopting the Zerodha cheap brokerage strategy.
For technical research and trading, the Angel app includes over 40 fundamental visual signals and overlays.
Angel's ARQ tool for boosting asset quality is included within the app.
The company costs Rs20 per trade, with no brokerage fees for delivery trades.
Advantages:
The program offers a simple and easy-to-use UI.
I enjoy the previously mentioned multi-desktop functionality.
It is possible to apply for mutual funds directly from the tool.
Shortcut keys of one's choice can be configured for rapid transactions.
It is possible to set up alerts depending on client parameters.
Disadvantages:
Bonds and IPOs are not available for investment.
#3 Upstox PRO Trading Platform: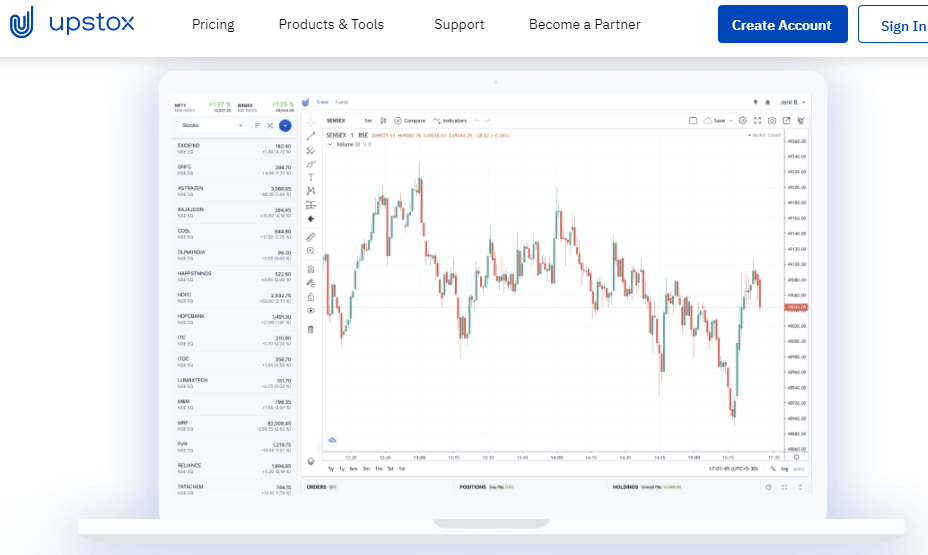 Upstox Pro is the company's most advanced web and mobile trading platform. RKSV Securities was their previous name.
The program employs a technique known as socket technology, which allows for real-time access to market data.
One unique feature of Upstox Pro is that you can place orders directly from the chart by right-clicking on it. This allows us to focus on charts instead of symbols, which helps us avoid making dumb mistakes while placing orders.
The charting may be configured to historical data. It also includes more than ten sketching tools and more than 100+ indicators.
It also included ten years of historical chart data. If you're putting any of your trading strategies to the test, it's a good idea to look at how they've performed in the past.
It also includes a lovely function known as drag & drop. Simply drag the scrip name from the left column to the charting window in the center. The chart of that specific script also will appear in the charting window.
Advantages:
Charts that may be customized with over 100 indications
Personalize the platform using widgets.
Make a chart-based order
Disadvantages:
This software does not allow you to invest in mutual funds (Equity, Currency, and Commodity are supported)
There are a few software problems, however, they are constantly updating the program.
#4 5Paisa – Trader Terminal Trading Platform: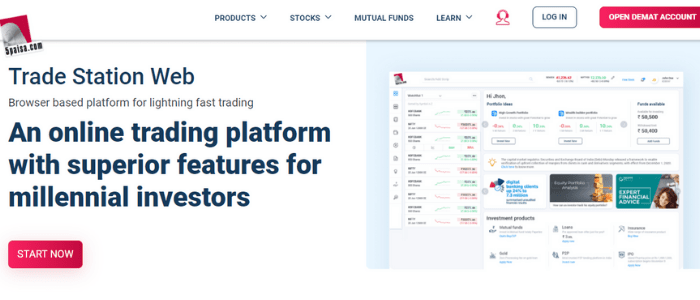 5Paisa is a discount broker. The name of their trading platform is "Trader Terminal," and it gives an excellent user experience.
The 5Paisa Trader Terminal is designed to provide you with quick access to almost all of 5Paisa's services.
When compared to platforms that are based on the internet. Because they are speedier, desktop-based trading systems are ideally suited for day traders.
You must get an a.exe file from their website and install it on your computer.
Advantages:
The terminal may be used to access the suggestions.
Mutual funds and insurance divisions are available for investment.
Users can make rapid decisions with the support of rich technical research and basic facts.
It runs smoothly since it doesn't take up a lot of memory on the computer.
Traders can alter the UI to their liking.
Disadvantages:
Because it's a newly released platform, there may be some stability concerns.
There are no third-party items integrated.
#5 Sharekhan Trade Tiger Trading Platform:

My favorite charting tool is Sharekhan's TradeTiger, simply because I've been using it for a long time. With a single click, you may place multiple orders, group orders, and bulk orders. The site allows you to specify order amount by actual amount, trade value, or current market price, allowing you to trade according to your choices.
Trade Tiger provides you with intraday and daily charts as well as over 30+ indicators and studies. Additionally, you may open many charts and link them together by period, scrip, or exchange. Take a look at the Sharekhan review.
Option quotes from Trade Tiger also include then 30 trading techniques, portfolio greeks, and pay-off charts. It is also possible to export market share within existing data streams to Excel and start trading from the spreadsheet.
Advanced charting features allow you to design entry, target, and exit lines as well as execute trades right from the charts.
Advantages:
Direct trading from Excel.
Trading with the use of heat maps.
Multiple charts can be linked together.
Make a chart-based order.
Disadvantages:
There are just 30 indicators and research available.
#6 FYERS ONE Trading Platform:
FYERS ONE is a desktop-based trading tool developed by a Bengaluru-based discount broker. FYERS, interestingly, has placed a high value on its trading platforms from the start.
The finest aspect of their program that I enjoy is the screener. It can search and set up good trade chances. You can check a stock that has gapped up by a given percentage from the previous day's peak, for example.
Advanced charting is available on the site, with end-of-day data going back ten years and intraday (1 to 5 minute) charts going back 30 days.
The fundamental analysis may be done in the same way; one may check with the needed PE ratio, market cap, and returns data.
They've put a lot of money into developing one of India's best trading platforms.
To undertake in-depth technical analysis, traders can use more than 60 indicators and research.
Traders may use Fryers One's "Heat map," "Market dynamics," and "Index meter" features to instantly analyze market movements.
Fryers One has ten customized workspaces with straightforward designs where you can create a watchlist based on sectors, indexes, and derivatives.
Advantages:
Ten workstations that may be customized Trading analysis using heat maps.
Charts with a 30-day history for intraday trading.
Disadvantages:
It is not feasible to trade from charts.
#7 MOSL Trader Trading Platform: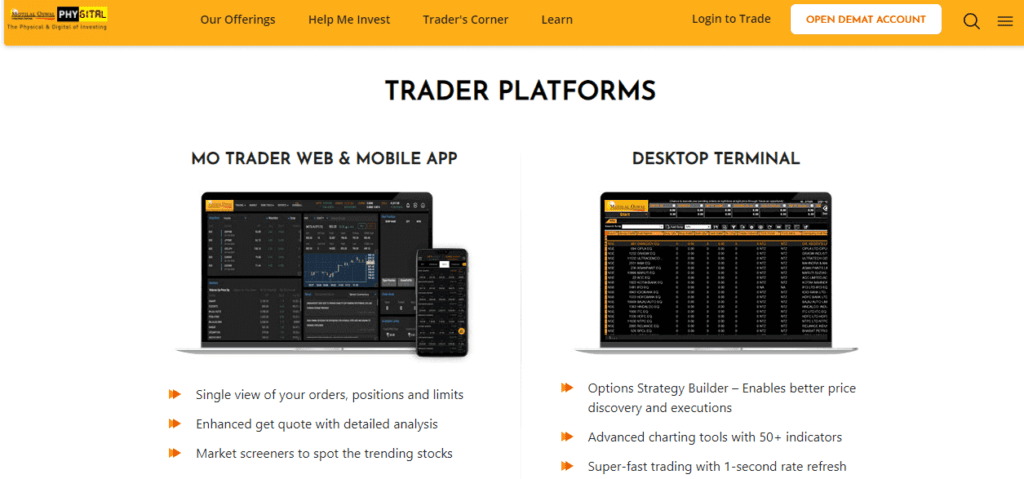 Motilal Oswal is a full-service brokerage firm that specializes in research advising and a wide range of financial products. So when you trade, you have reliable research-based advice and access to over 30,000 research studies.
For technical analysis and study, the platform provides over 40 customizable charting indicators.
Motilal Oswal's Orion Lite is a desktop trading platform with a 1-second rate refresh.
Orion Lite from Motilal Oswal offers a unique "Trade Guide Signal" technology that produces buy/sell recommendations automatically.
"Option Writer," which advises users whether or not to write options, and "Option decoder," which allows us to monitor and control your options portfolio, are both useful tools for options traders.
For stocks, derivatives, currency, and commodities, the desktop may be configured to track and create multi-asset watch lists.
Advantages:
While trading, you get access to over 30,000 research studies.
40 charting indicators that may be customized.
Option trading tools such as Option Writer and decoder.
Multi-asset timepiece.
Disadvantages:
It is not possible to trade directly from the charts.
There are too many trade ideas SMS.
#8 ICIC Trade Racer Trading Platform: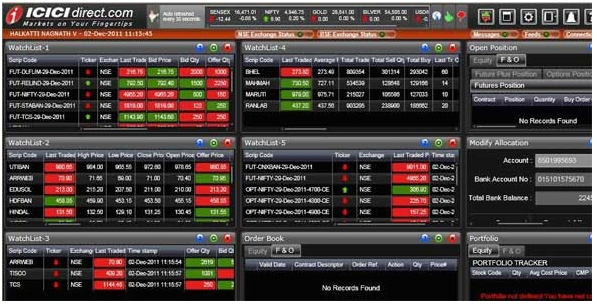 ICICI Direct Trade Racer is a powerful trading tool from India's largest stockbroker, ICICI Direct. They are the brokerage arm of ICICI Bank and have played an important role in popularising internet trading in Indian stock markets.
Again, Trade Racer is a terminal-based trading platform, therefore it must be installed before usage. It is available for download on their website.
TradeRacer offers live-streaming quotations and research calls, as well as different watchlists.
This program has a Trend Scanner feature: It is essentially a scanner that assists traders in locating trending scrips based on the conditions stated.
You also have access to their basic and technical calls via the "iClick2Gain" module.
The user interface is very customizable. Colors, grids, and layouts may all be customized. It has three views: "Analytical View," "Derivative View," and "Equity View." I believe that names are self-explanatory and that you can deduce what they imply.
Some additional features, such as a heat map and a live screener, are also offered.
With a 1-second refresh rate, trade execution is lightning quick.
In a single script, there are over 40 technical indications.
To select the ideal portfolio mix, use an interactive risk-return chart.
Trade guide signal: It provides an automatic buy/sell signal based on trend detection.
Access to over 30,000 research studies covering all asset types.
Advantages:
Set an alert for an entire demographic of scrips based on a certain criterion.
Multi-asset watch list: You may make watchlists for several sectors such as stock, derivatives, commodities, and currencies.
It includes a portfolio health check and review tool that allows you to compare and assess your portfolio as well as rearrange it.
Disadvantages:
It is really large, and it requires a high system configuration to utilize without lagging.
#9 NSE NOW: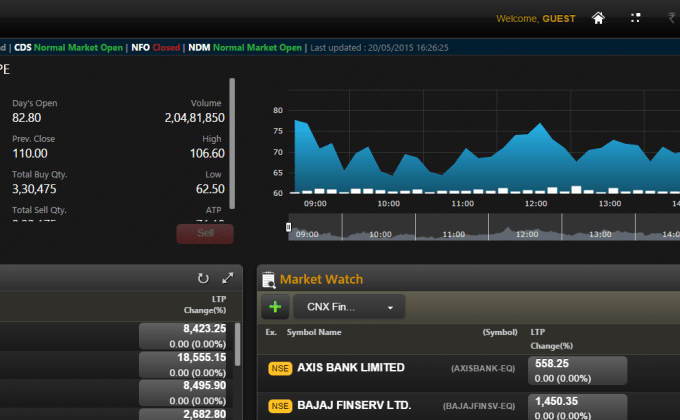 Unlike the other systems I mentioned before, which were created by individual stockbrokers, NOW (Neat on Web) is a web-based trading platform created by the NSE stock exchange.
There is no need to install any software, and it can be visited immediately from popular browsers such as Chrome, Firefox, or Internet Explorer.
It has a responsive design and hence automatically adjusts to the screen width of desktop, tablet, and mobile devices.
The best aspect is that because it is sponsored by the NSE, the NOW servers are closer to the NSE and hence prices are updated somewhat faster than the trading platforms of other brokers.
The strongest part is that because it is sponsored by the NSE, the NOW servers are closer to the NSE and hence prices are updated somewhat faster than the trading platforms of many other brokers.
Some notable brokers, such as Zerodha and Upstox, used to provide NSE NOW to their customers after obtaining an NSE license.
They have since terminated NOW after building their own platforms. However, a few brokers, such as Tradejini, continue to provide it to their clients.
The following are some of the most notable characteristics of NSE NOW:
There are more than 80 technical indicators and 15 charts available.
Create a market watch and monitor market behavior.
Create online notification alerts based on the customer's preferences.
If your broker provides daily suggestions, NOW will present them in its interface.
Less downtime and faster transaction execution.
Advantages:
The login procedure is more secure with two-factor authentication (2FA).
Both beginners and professionals may utilize it.
When compared to other platforms, it is rather quick.
#10 Kotak Securities KEAT Pro X Trading Platform: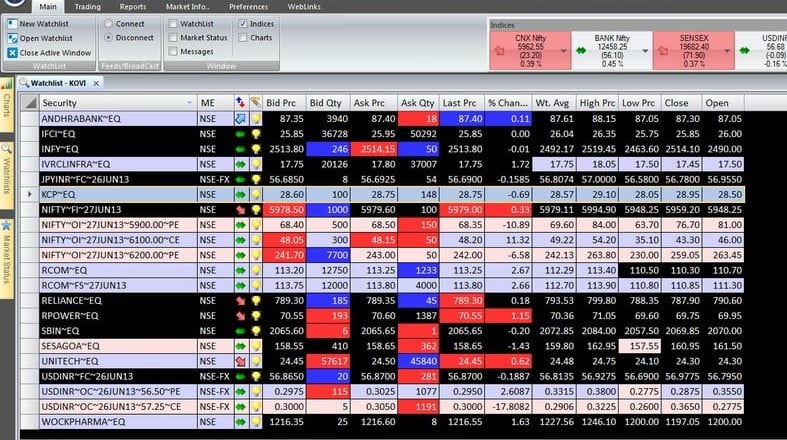 Kotak Securities' KEAT Pro X is a desktop-based trading platform that allows you to trade stocks, derivatives, and currencies all on the same platform.
KEAT Pro X includes live market data streaming, the ability to establish customizable watchlists, and charting capabilities.
Kotak Securities KEAT Pro X is Available in two types.
Fastlane: When your business does not allow program installs, Fastlane is web-based software for KEAT ProX-like trading.
Xtralite: Xtralite is designed specifically for trading over sluggish internet connections. Even on limited bandwidth connections, Xtralite enables lightning-fast trading.
Advantages:
Trade- in equities, futures, options, and currencies from a single platform.
There are two variants to choose from.
Disadvantages:
There are fewer charting tools.
What Are the details about the best trading platform in India?
Every Stockbroker provided a unique trading platform – There are several online trading platforms in India, but the best trading platform in India are those which perform best in terms of the overall customer experience, When picking a broker, investors should evaluate investment possibilities, trading tools, market research, beginner education, customer support, and service of use
Traders can use trading platforms to keep their accounts funded and make restricted deals. Investors can use trading platforms to keep their accounts financed and trade assets on a variety of exchanges. To improve security, information transparency, and secondary market liquidity, optimal trading systems should use complex architectural databases.
To satisfy both sides, the provider ecosystem enables businesses to engage successfully, apply suitable search criteria, and digitally bargain with offerings based on the transaction parameters as well as other terms and conditions.
What is the meaning of a Best trading platform?
In essence, a trading platform is a network-based market that gives users unrestricted functions to establish businesses, explore the catalogs of financial products and track Demat & Trading Accounts outside the banking community through financial institutions.
Trading platforms are in most instances equipped with a mixture of extra services, such as premium primary research, real-time quotations, news feeds or charting instruments to make trading information available in real-time and to guarantee smooth negotiations between as well as among traders.
Compatible with specialized demands of specialized markets, such the markets, stocks, options, or currencies, are also trading systems. Trading platforms provide more options for the implementation of transactions and management of trades by offering capabilities adapted to every market structure.
Point to Note while choosing the best trading platform in India:
Service for placing orders quickly:
Cover orders (CO) and bracket orders (BO) should be able to be placed concurrently on the online trading platform. If you don't, you can have to pay a higher brokerage or lose money when trading.
The online trading platform must allow you to place orders from several places, so you don't have to switch screens every moment you make a deal.
Features like the ability to put orders directly from the charts, prior placed orders, and watchlists are useful.
Requirements for Hardware and Software:
Apart from that, internet access should be fast enough to allow continuous live streaming of pricing, news, and market data. If your internet connection is sluggish, you will suffer lag (poor data processing) and will be charged the previous charges.
The trading laptop or PC must have adequate memory and a fast CPU to handle the demand. During trading, the equipment also shouldn't crash or hang.
To assess your transactions, you may need to resort to the stockbroker's website, trading platform, and charting software displays.
Charting & Tools for Advanced Users:
The foundation of trading activity is comprised of charts, indicators, and associated drawing tools. They are useful for monitoring price changes, predicting trends, and trading instantaneously by placing orders regarding the price movements of live charts.
Overlays, sketches, and technical analyses all benefit from the use of tools. You may not need 100plus tool options, but you should determine the minimal range of tools you needed.
Charting technology is able by many stockbrokers. For your buying and selling needs, you must have the greatest software.
User Interface Selection:
A user experience differs depending on the interface. While PC trading platforms are the fastest, they are not portable.
To do this, the trading platform for mobile apps is more appropriate. You should hunt for an online trading platform that is appropriate for your trading style.
Features for customization:
Optionally, the Trading Platform may be customized to assist you to create a custom workstation that can easily handle input and output ports trade. You may also create trading strategies with the customization feature. Consider the available trading platform adaptation options with your broker.
A wide range of Stockbrokers is currently available on the Indian market. Some discount brokers offer a platform for the opening of a free trade account. It is not the ideal method to start up a trade account because it is free.
Select the suitable Best trading platform for beginners, but you should look for other factors:
Basic functionalities and additional features:
A Trading platform should be sufficient to facilitate your current trading circumstances. You shouldn't need to worry about other features that you won't utilize for trading right now.
You will be able to update it at any moment if you want to do so in the future. For traders who are using all of the platform's functions in real time, a comprehensive platform is a smart choice.
However, it will just make your trading experience more difficult. If you're not sure whether a platform is too complicated, see how many functionalities you'll utilize daily. At the very least, the response should be 80%- 90%.
User-friendly interface:
Check to see if the platform you've picked is easy to work with daily. All features and functionalities need to be accessible and clear.
Performance Stability of Trading platform:
Check to see if a platform is compatible with the operating system at home or work. You must be certain that a platform's functionality will be consistent and smooth. This is among the most crucial aspects of investing.
Don't emulate other people:
Select a platform that is always dependent on your demands. Evaluate the material, discuss the experience of the stockbroker, and choose the Trading platform for your broker.
Support:
If the platform has a glitch or an issue, your broker should give suitable assistance. They should be offered in a variety of formats. Like as calls, chats, emails, etc.
Here, is a list of the Top 5 Bes Trading platforms for beginners in India – 2023:
Zerodha Kite 3.0
5Paisa trading
Upstox
Samco
Angel Broking
Conclusion on Best Trading Platform in India – 2023:
Selecting a trading platform totally depends on your trading needs and the demands of the person. See according to your needs, which trading platform suits you.
Please share your experience if you have used any of the applications mentioned above