In the world of investing, choosing the right stock broker is crucial for success. For investors who prefer a full-service experience, where comprehensive assistance and expert guidance are provided, selecting the best full-service stock broker becomes paramount. In India, several full-service stock brokers stand out due to their extensive range of services, research capabilities, trading platforms, and customer support.
Find Top Online Stock Brokers for You!
These brokers go beyond just executing trades and offer a wide array of investment options, research reports, personalized advice, and value-added services. They cater to the diverse needs and preferences of investors, whether they are beginners looking for guidance or seasoned traders seeking advanced tools and insights.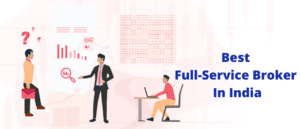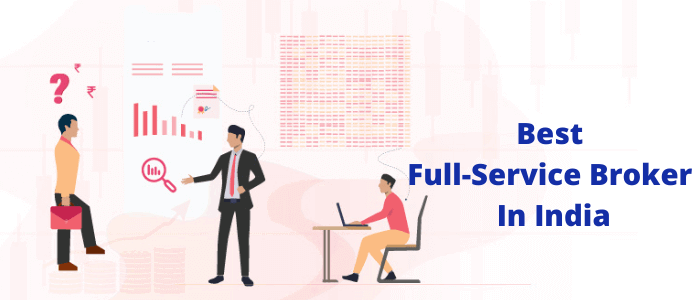 By combining financial expertise, technological advancements, and a client-centric approach, the best full-service stock brokers in India strive to provide a seamless and rewarding investment journey for their customers. In this article, we will explore the features and qualities of these brokers, highlighting why they are considered the top choices in the Indian market.
Our Top Pick Stockbroker in India 2023

Note: The list of the best full-service stock brokers may vary based on individual preferences and requirements. It is essential for investors to conduct thorough research and consider factors such as brokerage charges, account features, research capabilities, trading platforms, and customer support before making a decision.
List of Top 10 Best Full-Service Brokers in India with ratings:
What is a Full-Service Broker? (Definition)
A full-service broker is a registered financial broker company that offers its customers a wide range of services, including research and counseling, pension planning, tax guidelines, and more. Naturally, all of this is paid since commissions in full-service brokers are far more than in discount brokers.
Full-service brokers may give knowledge in intricate topics such as financial or property planning for those who do not have the time to remain up to date, but discount brokers are the way for those who wish to only carry out business without additional services.
More About Best Full-Service Broker in India:
Full-service brokers provide customers with personalized assistance and engagement in executing transactions, managing portfolios, financial planning, and asset management services. Individual stockbrokers and/or financial advisors are allocated to clients. In a full-service brokerage business, they are the primary point of contact.
Full-service brokerage clients valued the ease of having a personal broker handle all of their investing requirements. It is a one-stop shop for financial and investment management. The majority of full-service organizations provide internet access and trading platforms. Self-directed investors are more likely to take advantage of these opportunities. Fundamental research, order execution, and technical analysis capabilities are all available on these platforms.
Benefits of Best Full Service Broker:
Full-service companies have big research departments with analysts who give clients exclusive thorough reports and suggestions. They also include investment banking units that may provide some accredited investor customers with access to specific financial instruments such as IPOs, senior notes, preferred shares, debt instruments, limited partnerships, and many exotic and alternative investment options. This is one of the primary benefits of full-service firms. Full-service brokers frequently have their own in-house product line, which includes mutual funds, portfolio management, insurance, lending services, and exchange-traded funds (ETFs).
Points to Noted while choosing the best full-service stockbrokers:
Research breadth.
Branches and a physical presence
Research, advice, and stock recommendations.
Funds are transferred seamlessly between the bank and the trading account.
Brokerage fees.
Customer service.
Product and Services Provided by Full-Service Brokers:
Full-service brokers are recognized for going above and beyond to assist consumers with their trading activities. If you are new to stock trading, you should seek the assistance of a Full-Service who will guide you through the whole process.
The services will range from opening a Demat and Trading account to giving you financial advice to actually completing the deal for you. They do, indeed, charge a substantial price for this as well, which is known as the "Brokerage."
However, some Full-Service Brokers offer good brokerage value as well. That is, they repay every penny of the brokerage fee. If they charge a fee, they make certain that you receive the desired services and value for your money.
Products Provided by Full-Service Brokers:
Traditional Brokers provide their clients with a wide range of products.
Equity.
Derivatives.
Commodity.
Currency.
Future.
IPOs.
Repository Services.
Mutual funds.
Insurance Products.
Retirement Plans.
Bonds and Debentures.
Capital Gain Bonds.
Corporate FDs.
The majority of full-service brokers are registered with several stock exchanges for distinct stock sectors. For example, if they want to trade commodities, they must register with NCDEX (National Commodities & Derivatives Exchange), and if they want to trade currencies, they must register with NSE, BSE, or MSEI.
Organizations do this in order to provide consumers with as many alternatives as possible under one roof so that the consumer never considers switching Stock Brokers for their trading needs.
Services offered Full-Service Brokers in India:
Portfolio Management Services:
Customers may get personalized advice from brokers about what to invest in when to invest, and how much to invest. Because few people are able to grasp the intricacies of the share market, they rely on these advisory services to help them increase their money with minimal risk. Individual Relationships Advisors are sometimes provided by Stock Brokers to HNI clients (High Net Worth Individuals) who handle their complete asset and financial portfolios.
Customer Service Desk:
A customer service desk is also deployed by some Full-Service Brokers to support and resolve queries. Some of them provide support 24 hours a day, seven days a week, while others may only do so during business hours.
Analysis And Research:
Most of us lack the time and skill to do analysis and monitor market trends to determine which stocks are rising upward and which are sliding downward. As a result, we heavily rely on our stockbrokers. Many brokers also have a specialized Research & Analytics team whose goal is to constantly gather data about the current market condition, compare and prepare trends, and do comprehensive analyses of the prospects and futility of various stocks. They would usually share daily updates, and annual reports, including monthly reports with their clients so that they could make intelligent judgments.
Financial planning, tax advice, and retirement planning:
Customers can also get individual consultations from Traditional brokers to help them navigate their investments with professional financial advice. This is also done since many Full-Service brokers also sell Insurance and Mutual Fund products, therefore these consultations serve as a sales avenue for such products.
How do you Open Demat & Trading Account with Full-Service Broker?
Opening a Demat Account and Trading Account usually happen at the same time because they are related. You must first create a Demat account and deposit your existing shares before you can begin training. Once your Trading account is established, you may begin training.
The Broker will follow a common procedure to open the Demat and Trading Accounts to trade mobile app & desktop trading platform. To do the same thing, follow these steps:
Full-Service Broker Account Opening Process follows the steps:
The first step is to decide which Traditional broker you wish to work with. You must conduct extensive research on broker fees, services provided, goods supplied, brokerage and other ad hoc costs, and so on before deciding on a broker.
Nowadays, most businesses have an online registration and application process in place. You may register and fill out the application form for both a trading and a Demat account online.
Basic information such as your complete name, household and business addresses, mobile and landline phone numbers, and email address, among other things, must be entered.
Nowadays, websites allow you to upload your papers online. If such an option is available with your preferred broker, please submit all papers there.
When your information is received by the bank, someone will contact you to confirm whether you are actually interested in proceeding with the Trading and Demat Account. If you have any questions or concerns about any of the charges or fees, the representative will answer them for you.
Before opening a Demat Account, many organizations are required by SEBI to complete an In-Person Verification. When the in-house
Because face-to-face verification is not available, they recommend a video call or a Skype call.
Once this is completed, the total time required to open your Demat and training accounts will be no more than 3-5 working days.
What are the advantages of using a full-service broker?
Traditional brokers have a number of advantages:
The first and most important advantage of a Full-Service Broker is the experience they supply to their clients. When you know you have an expert on your side, you may make more confident and unafraid judgments.
Your money is in safe hands thanks to the personalized care given to your portfolio.
Their never-ending market research analysis and monitoring ensure that they are constantly one step ahead of the competition. Full-service brokers devote a significant amount of time and resources to researching industry trends. They also make certain that every one of their clients is guided to reap the benefits of their study.
Other services provided by a Traditional Broker include tax preparation, retirement planning, and life insurance benefits, among others.
What is the disadvantage of using a full-service broker?
There are a few drawbacks to their involvement as well.
The majority of Full-Service Brokers demand a high price for their services, which they tout as world-class. They do, after all, provide tailored and personalized services; nevertheless, buyers are sometimes hesitant owing to the price point aspect they give. When compared to a Discount Broker, their brokerage is significantly greater.
Although your Full-Service Broker may advise you on where to invest, when to invest, and how much to invest, it is not wise to trust them completely and go with your decision. They may be your financial adviser, but they are salespeople who are paid by commission or brokerage at the end of the day. As a result, constantly query your broker about his recommendations, and only proceed with your trading choice if you are sure.
Does a Full-Service broker provide Leverage or Exposure?
In the Stock Broking sector, leverage or exposure is a significant element, and most investors search for a broker that can provide these benefits. It simply implies that the consumer has the ability to trade using money other than those he has placed with the broker.
There are times when a consumer wishes to buy certain shares that are performing well, but his account balance is insufficient to cover the trade amount. This is the point at which he can use leverage or exposure to borrow money from the broker in order to continue the deal.
Brokers usually offer 3-4 times the exposure in Equity Delivery, up to 10-12 times the exposure in Equity Intraday, and up to 8-10 times the exposure in Equity Futures. As a result, the leverage limit or exposure limit varies depending on the segment and kind of contract.
Are Full-Service Brokers better for Intraday Traders?
Intraday trading refers to trading that takes place within a single day. Intraday trading allows you to purchase and sell stocks on the same day before the Sensex & market close.
This is usually done to make money and churn it. If you're looking for a quick turnaround in intraday trading, you'll require higher leverage and exposure margin with your broker.
You should also keep an eye on the brokerage or commissions that you will have to pay your broker for intraday trades.
Most Full-Service Brokers charge brokerage based on a percentage of the deal or per trade. If you trade via them, this will wind up being quite costly for you.
As a result, it is important to seek free or unlimited trading brokers in order to save money on brokerage fees.
Are Full-Service Brokers better for beginners?
Traditional Brokers are unquestionably great for newcomers to the world of stockbroking who have no prior knowledge of how the stock market works.
A Full-Service Broker would be your best choice if you are new to trading and want to do so safely under someone's supervision or instruction
He will walk you through every step of the process, from opening a Demat account to making your first transaction, as well as provide investment advice and industry research analysis.
However, contacting the correct Traditional broker with a recognized track record should be approached with caution, as some newcomers may take advantage of your lack of understanding in the sector.
Are Full-Service Brokers better for Long-Term Investors?
If you're seeking honest advice on long-term investments that will pay off handsomely, Full-Service Brokers are the way to go.
They can undoubtedly provide you with the ideal portfolio enhancement ideas and maximize your cash thanks to their skills and understanding.
You may use their research and analytics tools as well. As a result, you can make a calculated judgment on which Long-term investment to make.
In India, brokers are classified into two groups depending on their services and fees: full-service brokers and discount brokers. A full-service broker is a stockbroker or brokerage business that, in addition to arranging transactions, provides financial advice and associated services to clients.
As opposed to traders who use full-service brokers, discount brokers often offer a lower cost and give assistance to traders who have less amount of cash to trade with.
Full-service brokers do more than simply execute buy and sell orders for their clients; they also offer a variety of other services such as trending topic research, sectoral and stock analysis, and tax preparation, among others.
As a result, the services are centered on assisting such investors in keeping track of their investments on a regular basis.
Unlike budget brokerages, full-service brokerages have many physical locations and offer both online and offline services.
A full-service brokerage's transaction costs are greater than those paid by discount brokerages.
Because full-service brokerages have been around for a long time, conventional traders may prefer their trading experience over that of cheap brokerages. For young merchants, though, the situation may be the polar opposite.
FAQs on Best Full-Service Brokers in India:
Are Full-Service Brokers good for beginners?
Traditional brokers are ideal for novices who are new to the stock market and have no prior knowledge of how it works. They will walk you through every step of the process, from opening a Demat account to making your first transaction, and so on.
How Full-Service Brokers are better than discount brokers?
A full-service broker's experience is the most valuable asset they can provide their clients.
1. Then there are the extremely attentive personalized recommendations made to the customers.
2. They also offer additional advantages and incentives, such as retirement planning and life insurance.
Last but not least, they do market research to ensure that they are constantly one step ahead of the competition.
For more details please visit the Best Discount broker in India.
Are Full-Service Brokers good for intraday trading?
Full-service brokers charge a percentage of the deal or a per-day fee for brokerage. However, trading an account with a Traditional broker while conducting intraday trading would become incredibly expensive for any trader.
How to choose a full-service broker for opening a Demat account?
Make sure the Traditional broker you're considering offers a variety of financial services, such as financial counseling, research, and analytics. Not to mention a variety of services to persuade customers to stay involved in them. Your full-service broker must be registered with a number of stock exchanges, including the NSE, BSE, and CDSL.
Who should use a full-service broker?
Anyone can use opening a Demat and trading account, As a beginner, you will go to the full-service broker because of education, tips, tricks, and more that are most important for stock Trading. 
Which is a better discount broker or a full-service broker?
It totally depends on your Trading need, a discount broker is famous for the lowest brokerage charges but a full-service broker is more expensive as compared to a discount broker.
Who is called a full-service broker in the stock market?
Full-service brokers are those that give the investor comprehensive and total service, from trading advice to long-term economic planning.
For more details please visit the Best Stock Broker in India.
Conclusion of Best Full-Service Brokers in India:
In this article, all you need to know about Full-Service Brokers is found. Learn about their working tactics, brokerage fees, the benefits and drawbacks of dealing with them, and also more.
This would undoubtedly allow you to consider all facets of your association with them. As a result, you can make an informed conclusion.