While it is subjective to determine the absolute top share broker in the Indian stock market, there are several prominent brokers known for their reputable services, reliable platforms, and competitive offerings. Here are some of the well-established and popular share brokers in the Indian stock market: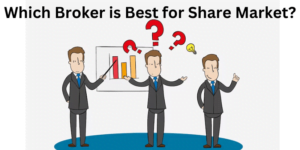 When it comes to investing in the share market, choosing the right broker is crucial. A broker acts as an intermediary between you and the stock market, providing you with access to buy and sell shares. With numerous brokers available today, it can be overwhelming to determine which one is the best fit for your investment needs. In this blog post, we will guide you through the essential factors to consider when selecting a broker for the share market, helping you make an informed decision.
Our Top Pick Stock Broker In Share Market
Here is the List of best stock brokers in the share market
It is important to note that the best share broker for you may vary depending on your specific requirements, investment goals, trading preferences, and risk appetite. It is recommended to thoroughly research and compare different brokers based on factors such as brokerage charges, trading platforms, research and analysis tools, customer service, and additional offerings before making a decision.
Choosing the Best Broker for Your Share Market Investments:
Here are some key factors to consider when selecting a broker for the share market in India, enabling you to make an informed decision.
Commission and Fees:
One of the primary considerations when choosing a broker is the commission and fees they charge for their services. Different brokers have varying fee structures, including transaction fees, account maintenance fees, and inactivity fees. Some brokers offer commission-free trades for specific investments or have low-cost options for frequent traders. Assess your trading frequency and investment strategy to determine the fee structure that aligns with your requirements and budget.
Range of Investment Options:
Consider the variety of investment options offered by a broker. While most brokers provide access to stocks, you may also be interested in investing in other instruments such as bonds, options, futures, or mutual funds. Evaluate whether the broker offers the range of investments you intend to pursue. Additionally, check if they provide access to international markets if you have an interest in global investments.
Trading Platform and Tools:
A user-friendly and feature-rich trading platform is essential for executing trades efficiently. Look for brokers that offer intuitive platforms with robust analytical tools, real-time market data, customizable charts, and order placement options. Mobile trading apps are also becoming increasingly popular, allowing you to monitor and manage your investments on the go. Prioritize brokers that provide a trading platform that suits your preferences and offers a seamless trading experience.
Customer Support:
In the fast-paced world of the share market, having reliable customer support is crucial. Consider brokers that offer responsive and accessible customer service channels, such as phone, email, or live chat support. Look for brokers known for their excellent customer service reputation, as timely assistance can be vital during critical market situations or when you have queries or concerns about your investments.
Security and Regulation:
Ensure that the broker you choose is properly regulated and licensed by the relevant authorities. This helps protect your investments and ensures that the broker follows industry regulations and standards. Look for brokers that offer secure platforms with encryption technology and two-factor authentication to safeguard your personal and financial information.
Educational Resources:
For novice investors or those looking to expand their knowledge, brokers that offer educational resources can be valuable. These resources may include tutorials, webinars, market analysis, research reports, and investment tools. Consider brokers that provide educational materials to enhance your understanding of the share market and improve your investment decision-making skills.
Conclusion:
Choosing the best broker for the share market requires careful consideration of factors such as commission and fees, investment options, trading platforms, customer support, security, and educational resources. Conduct thorough research, compare brokers, and consider your individual investment goals and preferences before making a decision. Remember that the best broker for someone else may not necessarily be the best for you. By taking the time to assess your needs and evaluate the available options, you can select a broker that aligns with your investment strategy and empowers you to achieve your financial goals in the share market.